Medical Centre Report – Laurene Veale
Medical Centre report – Laurene Veale (French volunteer from 22.07.11 to 16.08.11)
Download as pdf [download id="33″ format="1″ autop="false"]



My name is Laurene Veale (from France) and I am currently volunteering in the Dolly Foundation for Human Resources. I arrived on the 22. July 2011 and could observe during three weeks the developments of the Roter Lotus Medical Centre.  The D-Foundation runs this weekly medical centre every Sunday, although it is trying to increase its ability to attend to the crowds of people in need of its services by opening the centre more than twice a week in the future.
The social and economic context of the project
Before describing the running of the medical centre and its impact, the community to which it is providing vital services must be briefly presented. Sarnath is a very poor area of Uttar Pradesh and even to my foreign eyes the extent of poverty in the neighbourhood is shocking. Slums surround the town, from the train station to the rural areas around it, and on the way to Varanasi. The D-Foundation's headquarters, where the medical centre is currently run, are in the heart of the town's destitute zones. This, to me, is a positive and practical characteristic of the project, because it means that it is directly observing and tending to the community's needs. The founders of the D-Foundation were born and raised in the region and this provides the organization with precious profound knowledge of the social, cultural and economic background of the patients.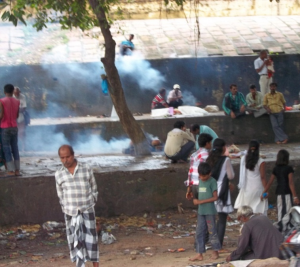 Although the project is aimed at providing all those in need with free medical care and treatment, it is important to note that the large majority of the people queuing up in front of the centre every Sunday are from highly disadvantaged social castes and live in miserable conditions. Sarnath was in the past known for its saree-weaving industry, but with the rapid industrial developments in India in the past decade, the weavers of Sarnath have lost their jobs to more cost-effective machines. The area is now prone to extreme poverty and there have been cases of starvation – several cases recorded in press articles (which I read with shock and a certain sense of anger) and many cases unrecorded and all the more serious.
I have listed here just a few cases illustrating the extent of poverty of the area (which the D-Foundation has kept records of and for which it can provide newspaper articles if needed):
– an entire family commits suicide due to its critical financial and social situation, which includes debt and a total absence of social recognition or respect. The parents fed poison to their children before taking some themselves – three members died but two children survived.
-another family commits suicide for similar reasons; two of the children survive but must be immediately hospitalized.
-a 34-year old man dies of starvation on the street, his family incapable of coming to his aid
-two cases of extreme hunger in the Jait Pura Women's Home, where the two young girls are so undernourished that they would have been incapable of moving to medical care if a free provider was existent.
I could go on, but the point here is simply to give a sense of how much the Roter Lotus medical care is needed in Sarnath. Government hospital conditions are very bad and are not free. This means only a privileged few from the middle class have access to public healthcare, while the upper classes pay for private healthcare which is of a higher quality and cost.
Many families in the slum areas survive on their cultivation of crops, but the harvest is becoming more and more unpredictable due to weather changes. If the monsoon fails to arrive or comes at a later time than expected, the families are directly affected and may face major food needs. Their health and financial situation thus depends on an external and insecure factor – they are not entirely responsible for their livelihoods.
In its other projects, I have seen the importance of the D-Foundation's aims to develop the capacities of these people to learn, study, train and work to secure their own salary. Social services to aid these people must be provided, but their dependence on these services must not follow. They must be given the opportunity to build their own future and depend on their skills to feed their families.
Also, the preventive care programs of the Roter Lotus centre are extremely important in educating people about basic hygiene and nutrition practises. Family planning and preventing infectious diseases will also be included in these free awareness-raising programs.
"They have limited knowledge in areas relating to their personal hygiene and also safety relating to food and water intake. Such education programs are necessary and will give them this information and the cases of diseases will be reduced".

Dr. Nirag
The medical centre and the extensive demand for free healthcare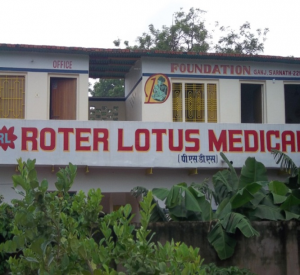 In fact, the extent of the demand for free health treatment can only be really grasped when one attends the Sunday medical care. Crowds of people start arriving even before the opening at 9 am, to ensure that they have the opportunity of meeting a specialist doctor and receiving adequate medicine. The centre tries to attend to all the patients who come, but material and financial means are limited and for the moment the maximum capacity in a day's session is around 600 people. This is a very large number for the small building and therefore two doctors must share a room, while only one room is reserved for stocking and distributing medicine and registering patients. The Roter Lotus team has explained that the medical centre reaches out to people in a range of around 25 kms around Sarnath. Over 40 000 people live in this area, and most of them are too poor to afford healthcare. The potential of the medical centre's development is therefore impressive – the demand for its services is limitless and as time passes, the team will build up experience and the means to address this demand.
We currently have 7 doctors: three general physicians, one eye-doctor (very much necessary as this concern a large number of patients), a gynaecologist, a paediatrician and a homeopathic doctor. All are highly qualified and renowned doctors of the area who have accepted to work on their free day for a reduced salary. Although it is not entirely unrewarded voluntary work, it nevertheless depends on their goodwill and their sense of compassion for the people of this area.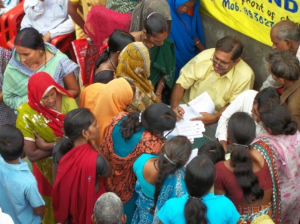 The medical centre is trying to employ these doctors on certain weekdays as well, so as to be able to open more than one day a week. On the second week of August, one doctor accepted to work on a Saturday for follow-up session for the patients of the previous week.
We also have managed to employ doctors on medical centres away from Sarnath – for instance on a Tuesday in the Boy's Detention Centre of Ramnagarh, which I attended. We drove their in the mobile clinic and each boy was given a thorough medical check up. Every one of the boys had to be prescribed medicine – all of them had health problems. Many had skin diseases due to a lack of nutriments, and others had eyesight problems. But the D-Foundation has also planned to improve the living conditions in this centre in the coming year: more adequate meals will be provided and a complete renovation of the building, with better toilets, kitchen and showers, will improve the sanitary conditions. The Roter Lotus Medical care will regularly visit the centre so as to ensure that the boys stay in good health in the building where they will spend all their childhood.
In the future, we have also planned to organise a medical check-up for each detainee of the Women's Detention Centre in Jait Pura.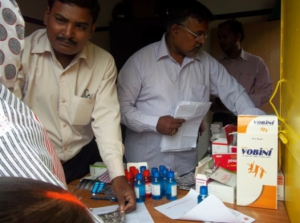 All the doctors seemed to me good-hearted and positive about the medical centre's impact, no matter how overwhelming the area's needs are. They all knew English and at the same time seemed to connect very well with the patients. This made the crowds more relaxed and at ease, something which they would not have found in public hospitals, if they could afford them.
Current obstacles to the centre's functioning and future possible developments
The main problem of the medical centre currently is the lack of equipment and staff to improve its services, extend its capacities and reach out to more people. The demand for its services is so disproportionately high in comparison to what it currently offers, that when I suggested that the Roter Lotus initiative should be communicated to the press because of its extremely positive impact, I was quickly told that this was not desirable. It would only bring more people asking for medicine!
Already, the news of the medical centre has spread and people are coming from a wider geographical range. Also, many patients come a second and even a third week, either because their illness needs weekly follow-ups, another member of their family needs care, or because they have various symptoms that they did not put forward in the last week. This means that every week, the numbers of patients swell and the capacity of the centre is further strained.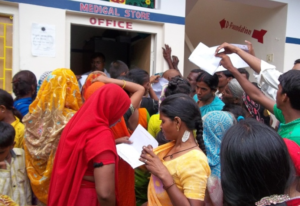 We face a major problem of lack of  equipment. The doctors have pointed out that various electronic equipments are needed if we are to give correct diagnosis. The medical centre needs to ask each doctor specialist in his/her domain which machines would help to improve the services, and then decide which are the priority investments This is essential, particularly for the women with vaginal infections. These cannot be treated purely with medicine and/or hygienic measures.
On top of this, the building is not adapted to welcoming large crowds of people. This problem must be addressed soon as the number of patients increases every week. The Roter Lotus medical centre should be moved to a larger and more appropriate building.
The D-Foundation members have looked for some land for the eventual construction of a small hospital, which could be open every day and could be large enough to provide all the services needed in this area. A space of land has been found in the rural slum areas around Sarnath and I visited the location. It is ideally placed because it is in the heart of the poorest areas, where families depend on agriculture entirely, the level of education is extremely low (almost none of the children go to school and most adults are illiterate) and the health conditions are disastrous. The average life expectancy is in my opinion very low – but there are no professional means of calculating this. Ideally, a study should be undertaken to measure the precise needs of the area. The Human Development Index (which takes into account the average life expectancy, the infant mortality rate, the income per head, and the school enrolment rate) would be a useful measure to have in order to understand the extent of the community's poverty.
But even without these measurements one can see very clearly that living conditions are extremely low.
The hospital would be sure to come to the aid of only the most destitute people and would be very close to their houses so that disabled people could be attended to. Roads connect the hospital to the city-centre making it accessible for doctors, staff and medical equipment transportation. The building would be large enough to have separate wings for the different needs. Each doctor could enjoy his/her own room, to correctly analyse and advise the patients. Rest-rooms for patients who need 24-hour care could be provided. We would also have the space for our training programs and for rehabilitation of disabled/injure patients. A storage room is also an urgent need.
This would be a considerable achievement for the Roter Lotus medical centre and would surely turn it into a renowned medical-care provider, a model to follow for other charitable organisations. I am   personally very impressed by the humanistic values of this project and would like to see them develop as much as possible.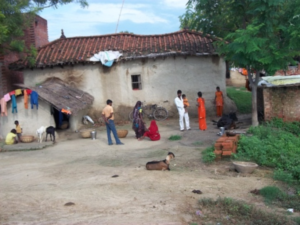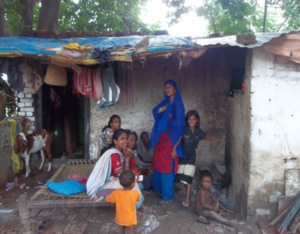 I have taken some pictures of the houses and the environment of these families, although the Roter Lotus team has far more knowledge than me. I was a simple observer – they have been raised alongside these conditions. Rural development has been a priority for the D-Foundation since its creation, and the opening of a hospital in this rural-slum area would perfectly combine the aims and means of Roter Lotus with the expertise and experience of the D-Foundation members.
The functioning of the centre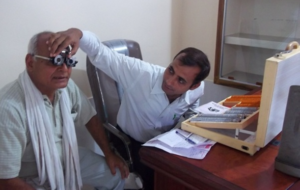 For the moment, a typical Sunday session goes as follows:
– 7.30 am – The team starts to prepare the building for medical treatment. A regular NGO office thus becomes an equipped medical centre, chairs taken out, registration tables set up and rooms emptied out so as to welcome large numbers of people.
– 8.00 am – Some members of staff go to collect the boxes of medicine with a vehicle and stock them in the distribution room.
– The ambulance-van is sent out to the slum areas, with volunteers and coordinators who go from door to door and identify the sick people too disabled to go to the medical centre on their own. They sometimes find family members too sick to even leave the mat they are laying on, entirely ignored by their relatives. These are mostly older family members, as children as considered a priority for the parents.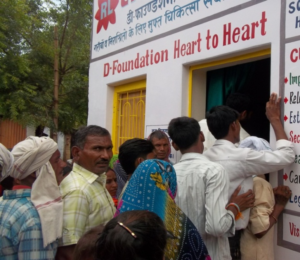 – 8.30 am – The doctors arrive, in their own car or by a means of transport paid for by the D-Foundation
– 9.00 am – Already a large crowd is waiting outside the gate, some arrived more than an hour ago. The registration process begins: each patient is asked for his/her, age and main symptoms. They are then weighed and filed so that the state of each person and its progress can be recorded and surveyed over a long period of time.
-Once registered, patients are directed to a specific doctor according to their needs. The team tries to give the doctors as much time as possible with each patient, sufficiently for a full check-up and proper identification of the illness/injury. However, after a while a queue forms in front of each doctor's room, creating pressure to speed up the process. This will be less of a problem once the medical centre can employ more staff and provide more space, so that each doctor can have a separate room.
– The doctors ask questions and analyse the patients, writing on their file the main symptoms and the causes of these symptoms. They then prescribe medicine to the patients, who are told to go to the medicine-storage room to receive, without charges, this medicine.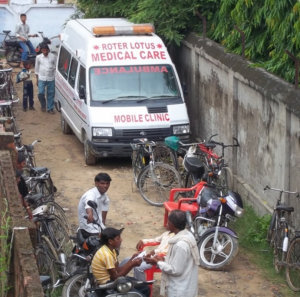 – Throughout the afternoon, the ambulance van goes from the slum areas to the centre, bringing and driving home patients. This service is efficient and very necessary, as we had noticed that the means of transport of our patients are extremely limited. In the first weeks, some older women had been brought by their relatives on the backs of bicycles, despite their very fragile condition. This is unacceptable and can be even more harmful for them.
– 5.00 pm: the last patients are tended to and the team starts to put the place back in order.
The main medical symptoms / illnesses and their causes
Most of our doctors agree that a large number of patients suffer from a bad health directly caused by their desperate living conditions. While this is not surprising, it also means it is a delicate issue to tackle: the patients are urged to take on more healthy lifestyles for themselves and their children, but their financial condition prevents them from doing so.
Malnutrition
Many of the children are undernourished and although we prescribe vitamins or additional nutriments, the best way to fight this is for them to be fed sufficient and adequate food daily. But fruit and dairy products are expensive, many times out of reach to the families of the area.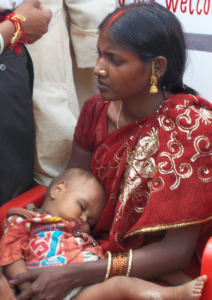 Calcium, protein and vitamins are the major nutriments lacking in the local diet. Most children here are fed with rice, bread and sometimes lentils – a source of proteins, but not enough.
The adults also suffer quite visibly of malnutrition and this causes other illnesses as well. For instance, a lack of protein and calcium causes weaknesses in the bones and muscles, which means that injuries are more frequent, particularly in the rough conditions they live in. A lack of vitamin is a direct cause of the many skin diseases that we have noticed on a large number of patients.
Malnutrition makes the body more prone to infectious diseases, which are present in the area's water due to an absence of sewage systems.
"These people earn only about 80 rupee per day and this is to provide for an entire family. How can they afford to feed themselves plus three or four children with this money? We are trying to advise them that they need to eat more than just rice. If they can add dhal to their diet and also drink milk, they will not suffer from malnutrician. Some of these people have cows and buffalo's but the milk is sold and is often their only source of income. We are also providing some vitamins and diet suppliments to try to help the situation".

(Dr. Shashikant Tiwari)
A possible small-scale answer to this problem and an alternative to our distribution of artificial nutriments could be to set up a regular distribution of milk for the children. However, I have been told that medicine here is in fact cheaper than milk. A litre of milk costs around 40 rupees, whereas more efficient calcium tablets would be around 12 rupees for six pills. Unfortunately artificial medicine is more cost-effective than natural nutrition as a means of fighting malnutrition.
This suggestion could only be further considered when and if the centre develops into a larger-scale operation. Of course the centre cannot afford to distribute milk to the entire neighbourhood; however, if the distribution is reserved to very young children, this would directly improve their resistance to diseases and reduce their chances of dying at an early age from illnesses or malnutrition. Buying the milk locally would also help the local economy, and thus the financial conditions of the very same families we are tending to on Sundays.
The doctors have also stressed the importance of preventive care – such as educative programs to raise the awareness of young parents about the importance of a balanced diet and investing in adequate food for their children. Preventive medical care is less costly and almost as efficient as curative care. The Roter Lotus centre is based on this double-principle of both preventing illnesses from appearing and curing them when they do. This is a cost-effective and very necessary way of tending to the area's needs.
Inadequate sanitary conditions
The most visible cause of illnesses and weak health are the living conditions of the local community. As I joined the Roter Lotus team to bring patients to their homes and to identify areas of extreme poverty which the mobile clinic will later visit, I could see for myself the life in slums and field huts around Sarnath.
The major characteristics of the sanitary conditions in slums identified by the D-Foundation are: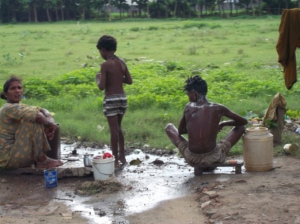 – Absence of clean water for drinking and washing
– Proximity of wastage and absence of street-cleaning services, making waste accumulate
– Proximity of animals (cows, goats, chickens, buffalos, dogs) that carry diseases within the huts
– Inadequate housing for protection against any kind of extreme weather – monsoon rains, heat, dust and wind directly affect the people who cannot even afford cement or bricks for their houses. Most huts  are made of mud and stones, and roofs are fragile – made of old planks, straw or reeds.
– Rough working conditions for the children, who do  not go to school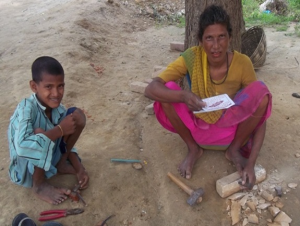 and work alongside their parents, often doing hard physical carrying, building, etc. Their  muscles and bones are insufficiently strong for this.
I was personally shocked by the image of many elder women, their backs bent all day on the fields they worked on, their thin bodies visibly unsuited for this sort of work.
– Agricultural work in any kind of weather and with no sort of protection. The families working in the rice fields, for instance, work with their feet and legs uncovered in the ponds, which are often disease-contaminated.
Infectious and deadly diseases
Naturally, in these living conditions, the rate of deaths due to diseases is significantly high. Even though the inhabitants of this area are very resistant to illnesses, as our doctors have confirmed, many still need powerful medicine if they want to survive. Antibiotics are a necessity for many. Although the Roter Lotus medical centre believes in the benefits of homeopathic medicine for certain health problems, our doctors also stress the importance of main-stream medicine for many of our patients. This is costly, but very efficient: due to their natural ability to fight illnesses and bacteria, the people here never suffer from negative secondary effects of medicine and often show signs of improvement earlier than usual.
Cycle of poverty
We would like to focus on the younger generation, because they are the most likely to break away from this situation of extreme insecurity. If they are aware that there is an alternative lifestyle to that of their parent, they can seek to follow education or a secure profession. In order to do this, their health must not be their principle concern. Particularly the young girls, our organization aims to tell them not to do what their parents have done. They marry with alcoholics, violent husbands; they do not know about family planning. We try in the vocational training centres to prepare them psychologically for a different life – show them that the life their mothers had is not the only solution for them. The same should be done in the Roter Lotus medical centre – we must teach them about family planning and basic hygiene, as well as how to educate their own children in a different way, which will encourage them to emancipate themselves from the situation of dependence they are brought up in.
Conclusion
As this report aims to show, the Roter Lotus medical centre is an impressive achievement and, best of all, it has an enormous potential. With its profound knowledge of the area, its secure base within the community it is helping, and its material means, it can go very far in addressing the limitless demand for free healthcare in the area. Future developments are needed; it is still at a very early stage. It must acquire new buildings, new staff, and new material. But it has developed very fast already and is offering a cost-effective service to thousands of people currently. There are many priorities asking for attention at the same time, which is obviously difficult to manage. On top of this, the D-Foundation has no previous experience of running medical services. Volunteers with medical experience will be searched for in Europe, through our international coordinators in France, Germany and the U.K. We will attempt promotion initiatives to communicate our project and involve more people.
Dieser Post ist auch verfügbar auf: German